Experience Christmas in Lapland
4 nights at beautiful Máttaráhkká Northern Lights Lodge
Scroll down
Duration
5 Days (approx.)
Location
Kiruna,Máttaráhkká Northern Lights Lodge
Price
26,900 SEK per person
Experience Christmas in Lapland with Santa Claus, Reindeer, and the Northern Lights
Experience a magical winter wonderland in Lapland during December, where you'll embark on a series of well-executed and unforgettable adventures in the pristine Arctic wilderness. Delight in the chance to greet Santa Claus and his reindeer while marveling at the enchanting spectacle of the Northern Lights illuminating the wintry night from the mountain's peak.
You'll also have the pleasure of meeting my dear friends from Husky Home, passionate mushers who will eagerly share their Arctic way of life with you. As their guest, you'll get a taste of the pristine Arctic lifestyle, surrounded by breathtaking views and abundant wildlife along the journey.
Included in price
Transfer from and to Kiruna Airport or train station
4 nights at beautiful Máttaráhkká Northern Lights Lodge
7 various and unique winter adventures
All meals (excluding alcohol)
Arctic clothing loan, down jackets, pants, and winter boots
Highlights
Meet Santa Claus & Reindeer
Dogsledding with Husky Home
Original ICEHOTEL Experience
Endless Lapland Views
Outdoor Hot Tub Relaxation
Pick & Decorate Your Christmas Tree
Enjoy Swedish Christmas Buffet
Aurora Chase
Join us for a magical winter in Lapland!
Day 1 - 22 December
Arrival
Transport to the lodge from Kiruna Airport or the train station
Check in at the beautiful lodge
Meet and greet the team
We provide you with arctic clothes. Down jacket & pants. Winter boots, hat, and gloves
Enjoy your first night in Lapland with Hot Tub, sauna, and dinner at the lodge
What would be a great way to enjoy one of nature's most amazing wonders – the Northern Lights?
Well, in a hot tub on a rooftop with a 360° view over the night sky!
This evening is all about relaxing and enjoying the local cuisine. You'll be served a 3-course dinner during the evening and when the night is over we can guarantee that you will feel both relaxed and get a good night's sleep after a long day of travel
Day 2 - 23 December
Views over Lapland by snowmobile and pick up the Christmas tree from the forest.
Experience an entire day of thrilling and expertly-guided snowmobile safaris through the stunning Lapland landscapes.
On snowmobiles, we ascend beyond the treeline to reach the pinnacle of Lapland's viewpoint. Here, we immerse ourselves in a bit of tradition by trying our hand at ice fishing. We'll even brew some coffee over a crackling fire and indulge in Swedish Fika, making the most of this magical moment.
Our journey continues down to the serene taiga forest, where we pick the perfect Christmas tree. Once the tree is selected and loaded onto the sled, we savor a cup of glögg (Swedish mulled wine) and pepparkaka (ginger cookies) before our return to the lodge. There, we'll treat you to a 2-course lunch prepared with love from the local kitchen.
Aurora chase
Your evening begins around a cozy fire in a tipi near the lodge.
After savoring a delicious BBQ meal, we embark on a quest to witness the mesmerizing Northern Lights. Depending on the weather and conditions, we'll either search for the auroras with snowmobiles or take a minivan to Abisko, renowned for its prime viewing spots, ensuring a magical and unforgettable encounter with the dancing lights.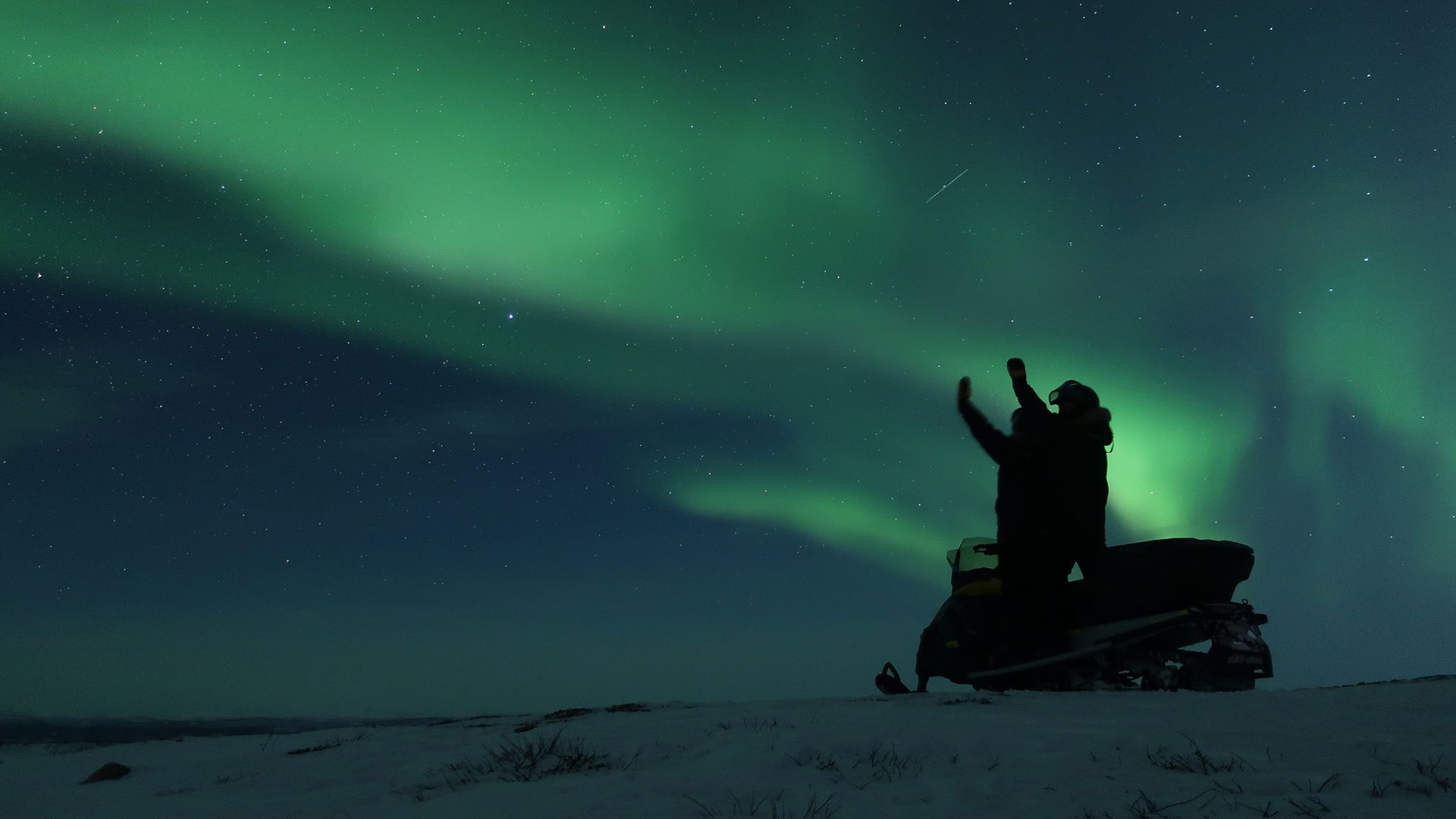 Day 3 - 24 December
Husky Home Dogsledding Adventure
Get ready to meet my wonderful friends from Husky Home, who will be your guides on an unforgettable dogsledding experience.
They are truly passionate about their lives as mushers in the Arctic, and as their guest, you'll get to immerse yourself in this unique way of life while dogsledding through the pristine Arctic wilderness. The journey promises breathtaking views and encounters with the region's remarkable wildlife.
A Memorable Dinner at the Lodge
After your exhilarating day of dogsledding, treat yourself to a delightful 3-course dinner at the lodge, expertly prepared by Team Alex, with flavors inspired by the rich culinary traditions of Swedish Lapland.
Day 4 - 25 December - Christmas Eve
After breakfast
After breakfast, we gather to decorate the Christmas tree at the lodge. Once the tree is adorned, Santa and his reindeer await us in the traditional Sami tent (kåta), where he distributes gifts to everyone who has been nice. We also indulge in some delicious traditional Sami cuisine next to the crackling fire. After the lunch we visit the original ICEHOTEL.
Visit the original ICEHOTEL
Immerse yourself in the enchanting world of the original ICEHOTEL, sculpted entirely from snow and ice. Explore the mesmerizing ICEHOTEL 365, a groundbreaking concept that offers art suites designed by acclaimed artists from around the globe. Don't miss the opportunity to sip cocktails from unique ice glasses at the ice bar.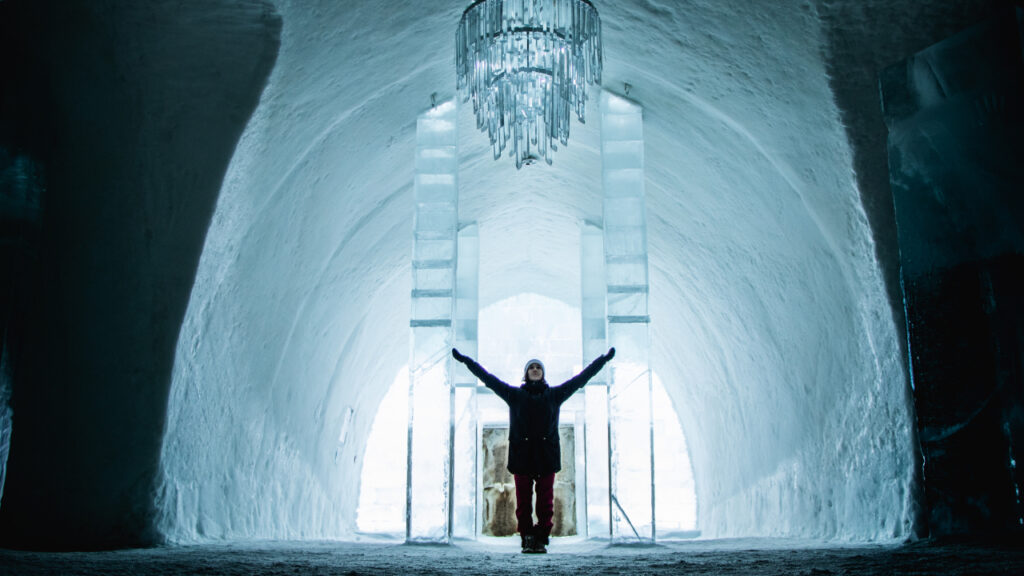 As the evening unfolds, we celebrate Christmas Eve together with family and friends. Team Alex has prepared a traditional Swedish julbord (Christmas smorgasbord) for this special occasion.
Day 5 - 26 December
Transfer back to Kiruna Airport
Welcome to a home away from home!
Cancellation Policy
The following conditions apply to reservations with an arrival date between 1st of December — 31st of March:
Cancellations up to 30 days before arrival are free of charge.
Cancellations between 15-29 days before arrival will be charged 50% of the booking's total amount.
Cancellations within 14 days of arrival will be charged 100% of the full booking.
Ready to start your adventure?
Have any questions?
Give us a call or write by using our contact form.
Contact us