Welcome to Adventure Lapland
A home away from home with unique winter adventures in Swedish Lapland.
Scroll down
Once in a lifetime short breaks in Swedish Lapland
Our programs at Adventure Lapland allow you to experience the very best of our destination during unique safaris and well-executed adventures that are designed with maximum flexibility to make sure that you, as our guest, always get the best possible experience from our home.
Ready for an unique experience?
Are you looking for single adventures? Book one of our unique day/evening safaris. We focus on larger, well-executed adventures in a pristine arctic wilderness.
#1 of 4 lodges in Kiruna
Máttaráhkká Northern Lights Lodge is like a home away from home – but with that little extra.
We have 7 double rooms and offer you a nice stay in a relaxing environment with the sounds of nature around you. From our Lodge you have an amazing view over the night sky and it is a perfect place for the Northern Lights.
Step into our heated outdoor jacuzzi, sit outside in front of our open fireplace or wander outside the Lodge and lie down on a warming reindeer skin with a hot cup of cocoa or lingonberry drink and watch the stars and lights above you.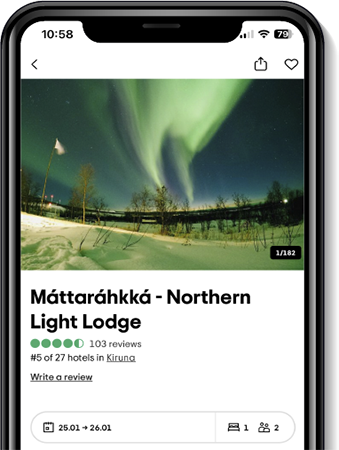 Have any questions?
Give us a call or write by using our contact form.
Contact us